Decorating your mantel for the holidays extends the fun of tree decorating into another area in your home. Since the kids tend to takeover the fun of placing the ornaments, sometimes it's nice to let your creative juices flow elsewhere and let them have their fun.
GETTING STARTED: Just about all holiday decorations are fun or gorgeous (or both) and it gets so hard to choose! It's best to start off with a theme or color-scheme that works for you. Maybe you want to match your tree or maybe you're going for a whole different look in another part of the house. You'll need to decide where to hone-in to get the look you want
Christmas doesn't just involve red and green anymore and decorating your
mantel is not just centered around Christmas so open your mind and check out some of the ideas below: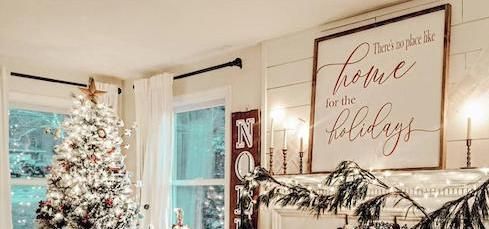 Thinking about Selling after the Holidays?
Find out What Your Home is Worth Or simply Contact us: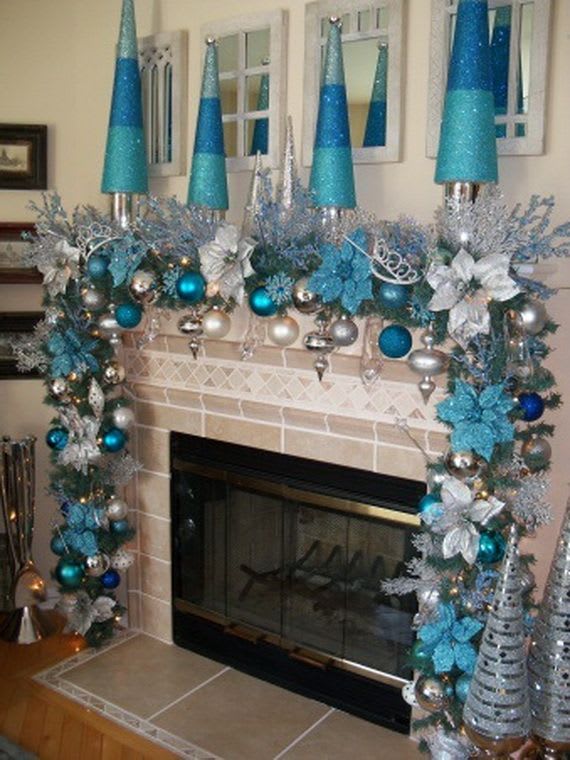 MONOCHROMATIC
Pick one-color and do lots of shades of it. Here the addition of white and silver do not take away from the beautiful blues. See below for more daring monochromatic looks.
Also notice the garland continues to the floor elongating the fireplace.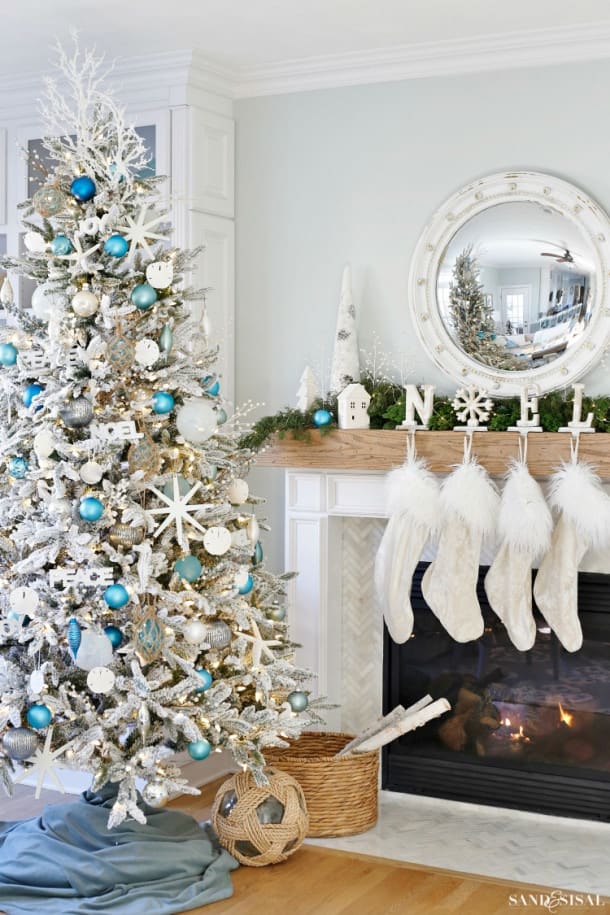 ALL WHITE or COSTAL
You don't have to be on the coast to go with a beach-theme Christmas. Or, Just sticking with the blue and white can give a winter-wonderland feel. All white with distressed pieces are great for that farmhouse/shabby-chic lover too.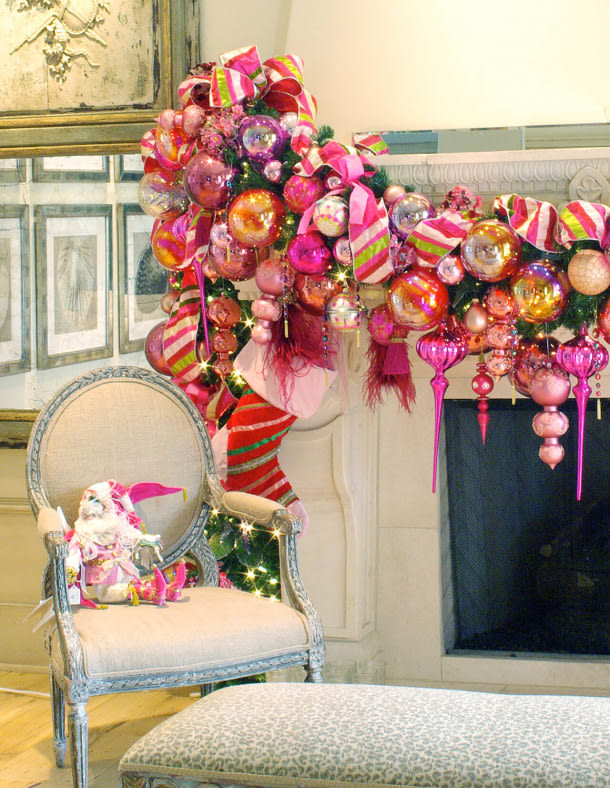 GET CREATIVE
Christmas ornaments don't have to just go on a tree. Hot-glue or wire them to a string of evergreen garland. If you don't want to use your cherished ornaments- the dollar stores have a some great finds this time of year.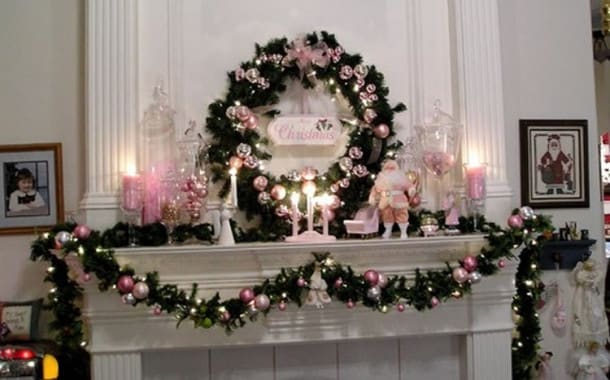 NEW COLORS AT CHRISTMAS
Pink trees and mantels are getting more popular with bold fuchsias to soft-pinks, don't be afraid to step out of your comfort zone.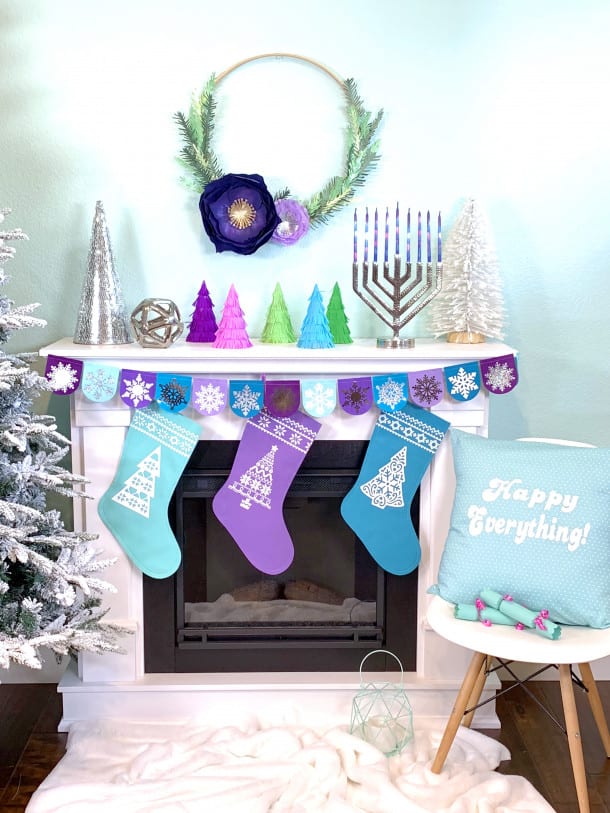 MULTI-HOLIDAY
No matter what your family celebrates you can incorporate all holidays or just a winter-theme into your decorating.
MAKE IT FUN
Let your personality come through. This purple and blue mantel looks fun yet elegant using colors you normally wouldn't see in a Christmas setting.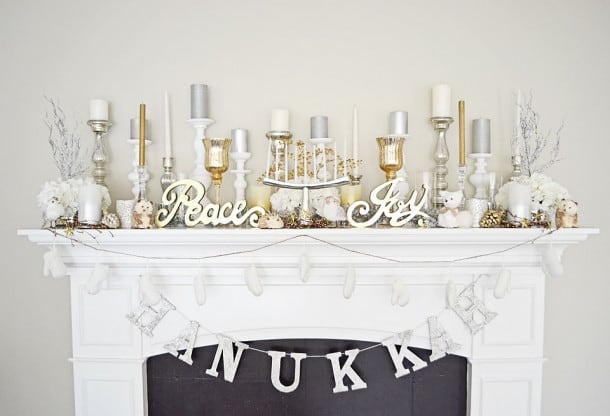 MORE THAN A MENORAH
It's simple and beautiful to add more than the menorah. Varied size candles and holders in thickness and height complete this look.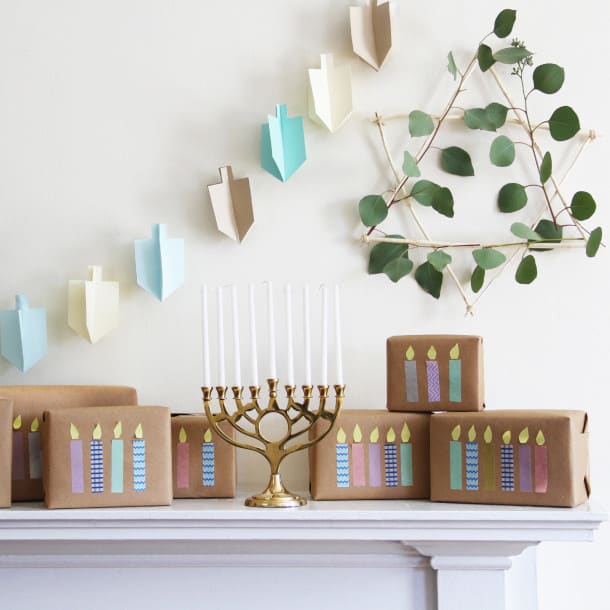 HANDMADE HANUKKAH
Easy- hand cut dreidels strung with fishing string or twine on the mantel or wall.
Take your grocery bags and wrap random boxes inside out with construction paper candles for accent pieces.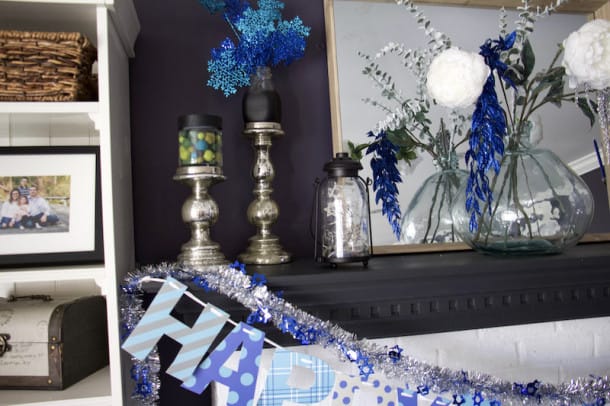 NOT ALL HOLIDAYS
Here the mantel is adorned with non-holiday items that still hold the colors of the chosen holiday theme.
Symmetrical Isn't For Everyone
Try a few ways of handing and placing your chosen pieces. Here the red-trimmed stockings on the left are weighed out with the chair on the right with the use of the red throw.
If your fireplace is not in working order these festive boxes are one idea in addition to filling it with LED candles that resemble birch trees, fake wood stack or decorative ends of birch trees.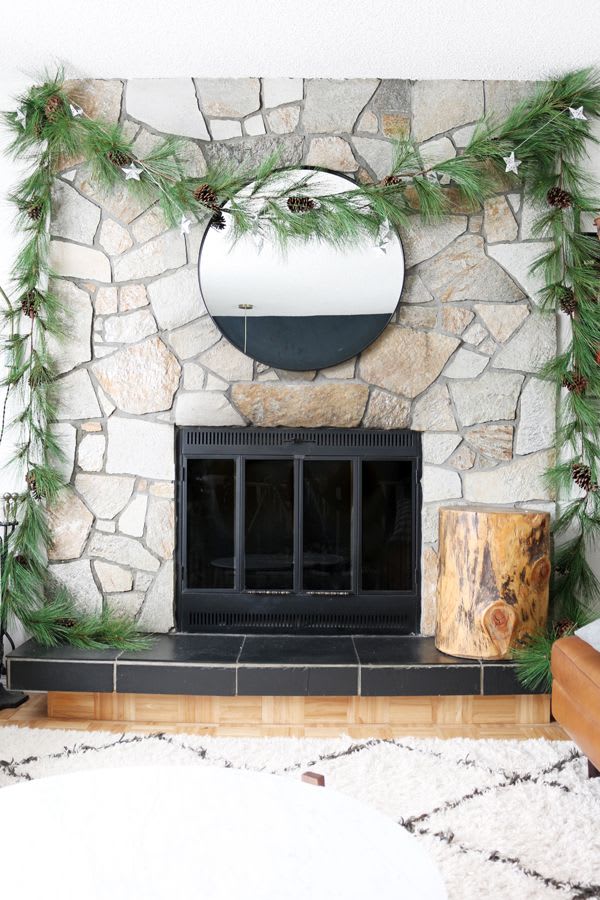 FIREPLACE BUT NO MANTEL?
Adhere 3M hooks to your fireplace to hang garland or lights - make sure you are high enough to avoid the heat of the fire.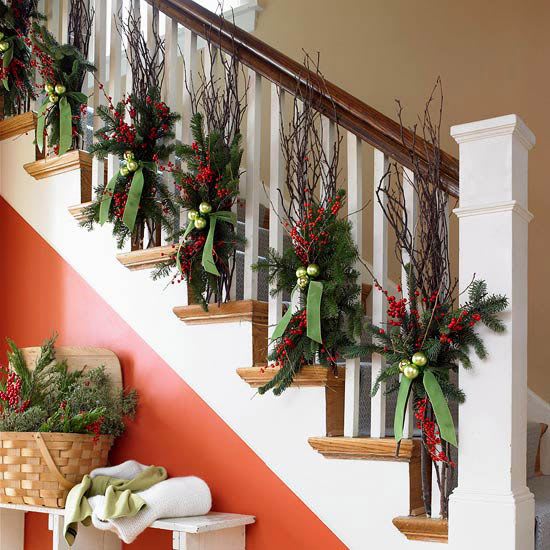 TWIST THE GREENS
Sometimes just turning the direction of something as simple as evergreen garland can give the needed look. Here instead of following the stair line, they chose to follow the upright rails. Where else in your home can you incorporate this idea?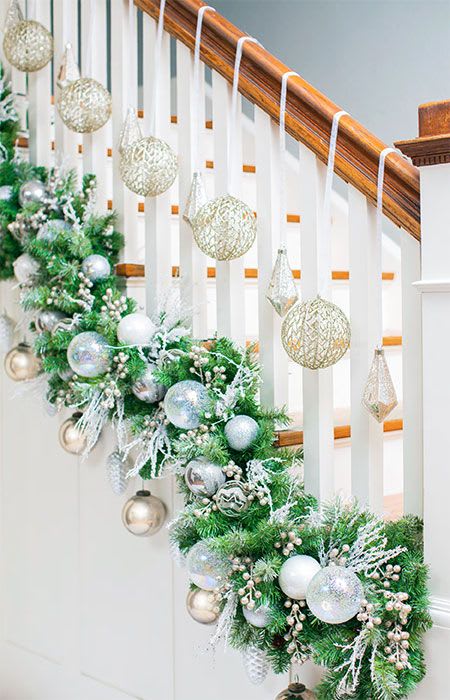 OPEN RAILING
When the décor goes on the actual railing it may get knocked off with hands reaching for that support. Here they kept that open but heavily adorned the stair-line giving an elegant look.
Endless Possibilities....
As you can see it doesn't matter what you celebrate or what colors speak to you, there are endless possibilities on how you can change the look of a featured part of your home if you just open your mind to the possibilities! Email us a picture of your creative holiday décor or if you used one of our tips, we'd love to see it: Info@SwainSells.com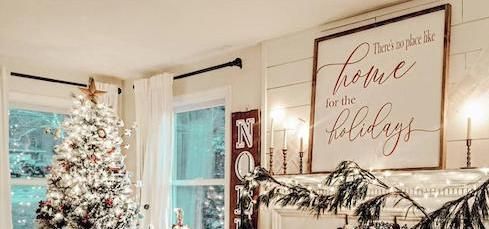 Thinking about Selling after the Holidays?
Find out What Your Home is Worth Or simply Contact us: