Everyone loves the charm and unique character of a farmhouse. If you are thinking about purchasing an old home search our inventory of old homes for sale in Bucks County or Montgomery County. The features an old house has to offer are striking from the old stone exterior to the pine wide plank flooring. Yet, it may not be functional for today's homeowner which is what hurts the value of many old homes. Years ago the rooms were smaller, ceilings were lower, closets weren't deep, and the number of bathrooms was often less than desirable. Over the years many homeowners have renovated and tried to bring many of these homes to the functional standards of todays living. Join us on our journey as we make our old house functional for today's living while keeping the charm and character of yesteryear.

Old Homes For Sale
Find Old Homes For Sale In Bucks & Montgomery County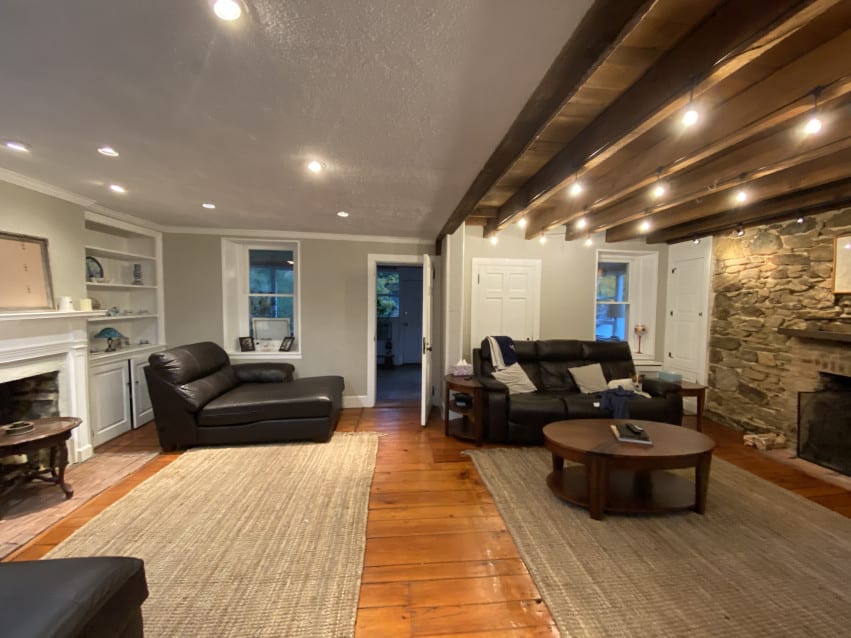 Since the wall came down we have spent much of our time is spent trying to figure out how to optimize the rooms space. As well as playing around with furniture and tv placement to find the most aesthetically pleasing and functional layout.

Before staging furniture I still had to match the floor stain. It was easier than I anticipated. I had never had much experience with stain yet I was willing to figure it out. I had a friend stop over and give me some guidance as well as a few pointers. We had good luck and did not have to mix any stain together. A cherry stain seemed to do the trick and match well. Next came the electric, we ran into a few challenges along the way. We discovered old buried electric in the wall. We ended up shutting off that circuit breaker for a few days to allow time to confirm exactly what outlets and switches it operated. Then we removed the old electric and installed new exposed electric to code from the electric panel to the outlets. As part of the electric we discussed how to light the room. What would be create enough brightness as this room is darker and does not get a lot of natural light. As an expert Realtor, I know that brightness sells a home. So, lighting is very important.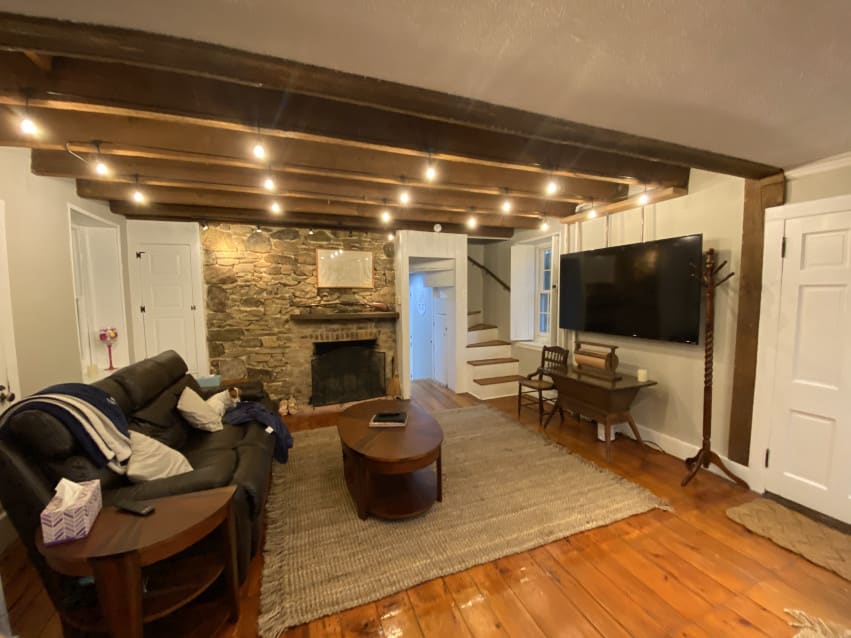 The old living room has a drywall ceiling with recessed lights, whereas the old dining room has exposed beams. I like recessed lighting best yet it doesn't work well with exposed beams. So we did a little research. It seemed our options were limited. We could make a box and position the recessed lights in them, get track lighting, or get cable lighting to run in between the beams. These were all ok options, but none thrilled us. We wanted a more rustic look, and none of these options achieved that look. So an idea came to me: outdoor string lights. But would they be bright enough? After installing them it was clear they looked awesome but they weren't bright enough. Each bulb was 11 watts with 15 bulbs. I screwed in a 72 watt bulb into one of the sockets and that one was blinding. So we decided to try a slightly high wattage bulbs, one not as blinding. We went with an antique style bulb that offered 40 watts each and were dimmable. That did the trick! It looks neat and is bright as daylight if needed. So we hard wired them in.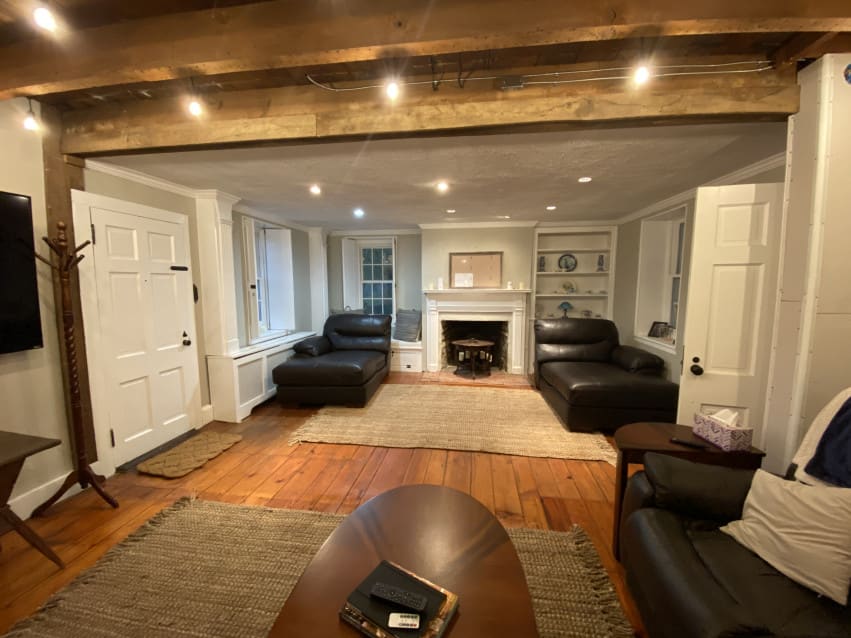 The furniture and TV was a whole other story. We decided to keep the one reclining couch we have as it is brown leather and matched our decor. There was a lot of debate over whether to add comfortable furniture or more formal furniture to the room. After much discussion the idea of comfortable chairs won. So we went shopping. We found 2 chairs and an ottoman that were perfect. Yet, we did not realize that the covid had affected furniture stock. One of the two chairs was available. One we could get in a week, the other would take till January to be delivered. So we went back to the drawing board and looked at our options. We ended up splitting up a sectional we have that is also brown leather. We hung the TV on the one wall using an old beam and moved pieces of furniture around to see what flowed. After consulting visitors and family and friends we came up with a functional layout for us. We struggled with whether to move the grandfather clock as it was a nice piece yet, it blocked part of the stone fireplace. Exposing more stone would create more of a wow factor when visitors walked in the front door. Again, staging a home adds value. The more appealing a home is, the more demand will be created. Even though I am not selling this is a consideration.

It is all coming together! Last on our list is finish decorating the room the make it pop.
Old Homes For Sale

Find Old Homes For Sale In Bucks & Montgomery County